Indoor Positioning services
3D Indoor Mapping
Automatic step by step guidance (proprietary system)
Automatic follow-up of patients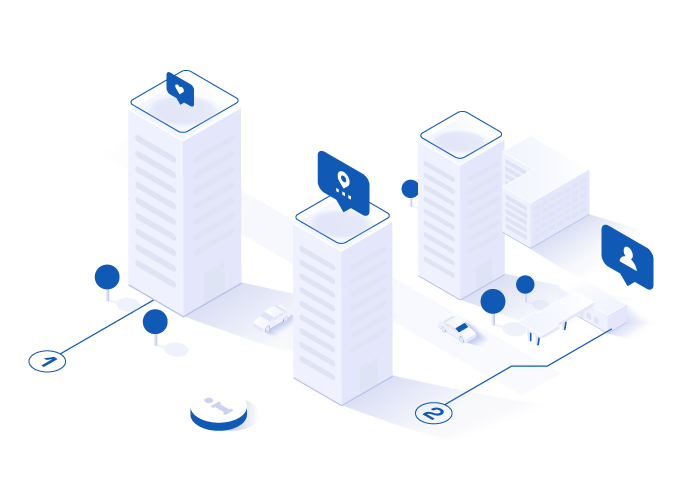 Smart Cities services
Customized mobile app
Mobile content management platform
Numerous modules and connectors available
100
municipalities and institutions clients

500000
downloaded applications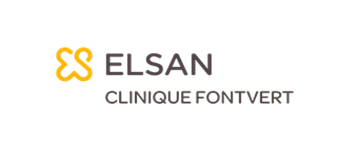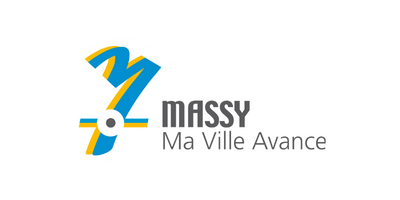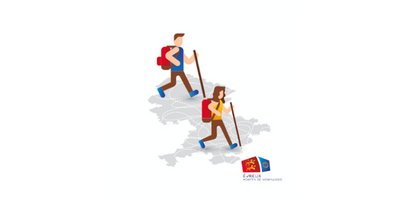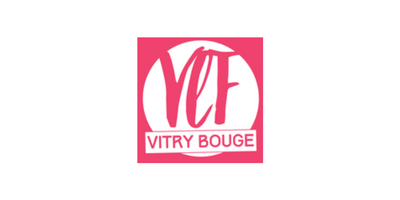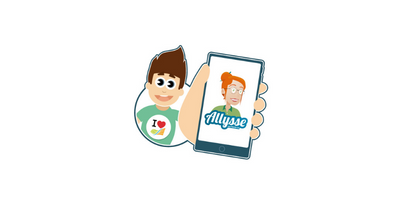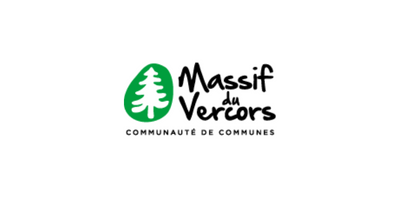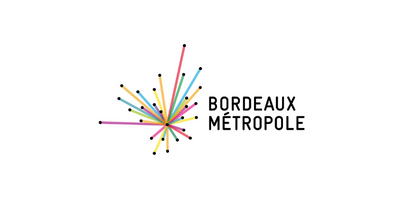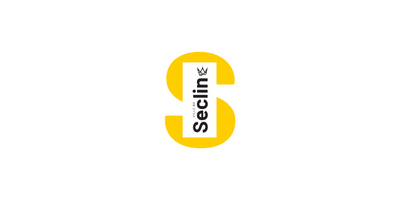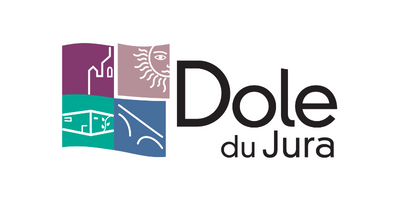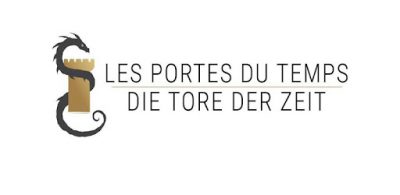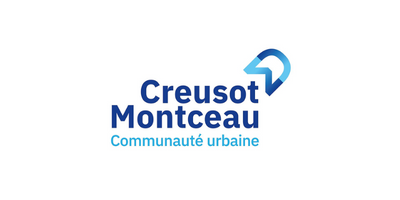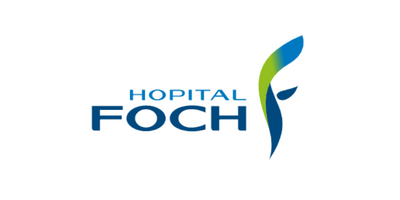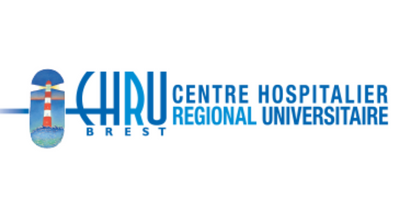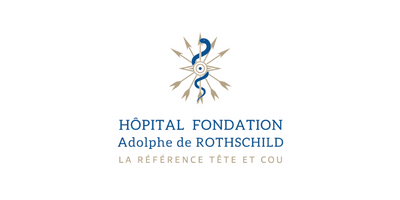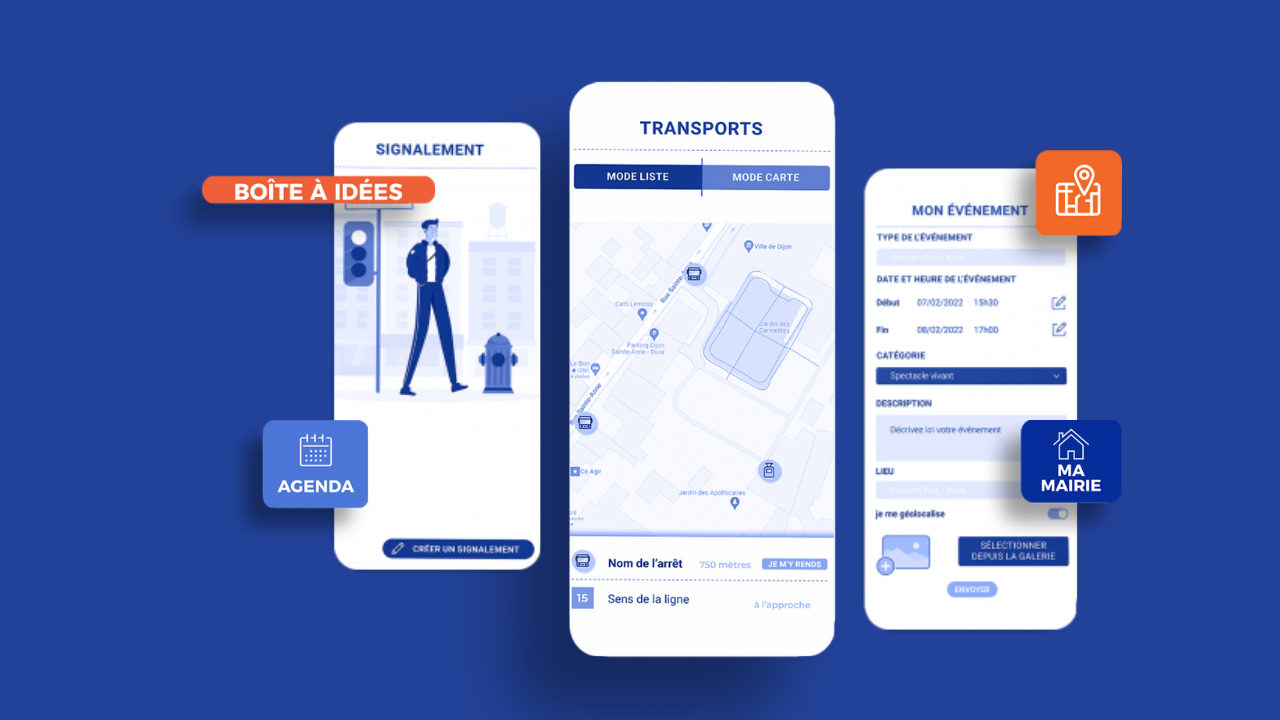 Categories
Blog-en
At a time of ecological transition, municipalities are transforming themselves to become smart cities, intelligent cities that operate in a sustainable and collaborative manner in order to offer a more pleasant living environment to their residents. To achieve this, they use digital tools, especially mobile applications. But what are the advantages of a mobile application for smart cities? What exactly is it used for? Sweepin answers.
The practical benefits of a smart city application
The mobile application for smart city is a direct and efficient way to reach citizens. It is estimated that nearly 85% of French people have a smartphone, which makes the mobile application a practical communication tool, accessible to the greatest number and adapted to current uses.
The implementation of a mobile app also offers other advantages to the smart city:


It is a flexible and agile tool, constantly updated and customizable according to the real needs of the city as well as the users,





Well integrated with the city's information system, it offers productivity gains (less data entry, rapid processing of requests, etc.),





The city reduces its expenses and improves its carbon footprint thanks to dematerialization, thus meeting the sustainable objectives of a smart city,





Finally, it gives a modern and connected image of the city.


A mobile application to inform in real time
For an smart city, the role of a mobile application is first to inform users in real time. The advantage is that residents have instant access to all practical information about the city on the same medium: city hall opening hours, work zones, sorting guide, on-call pharmacies, new businesses, etc. The smart city's mobile app replaces and modernizes the traditional municipal magazine.
Beyond the inhabitants, the smart city app can also integrate tourist modules that will make visitors discover the city and its heritage, with for example interactive maps, hiking trails, panoramic views of points of interest… Whether you are a resident or a visitor, the mobile app is a mine of information!
Facilitate exchanges with a mobile app
The smart city application is not only informative. It integrates functionalities that allow to interact with citizens. This includes the possibility of carrying out administrative procedures at any time or to pay for the children's canteen, but also to participate in surveys concerning the city's projects.
The mobile app also allows you to report useful information such as damage, defective lighting or road accidents to the relevant departments: a citizen's report that makes the city safer and more pleasant to live in for everyone.
Through its various functionalities, a mobile application for smart city makes possible a shared governance between the city and its inhabitants. It facilitates interactions, strengthens citizen involvement and allows everyone to participate in the construction of a sustainable territory for tomorrow.
Discover all our connected solutions for smart cities.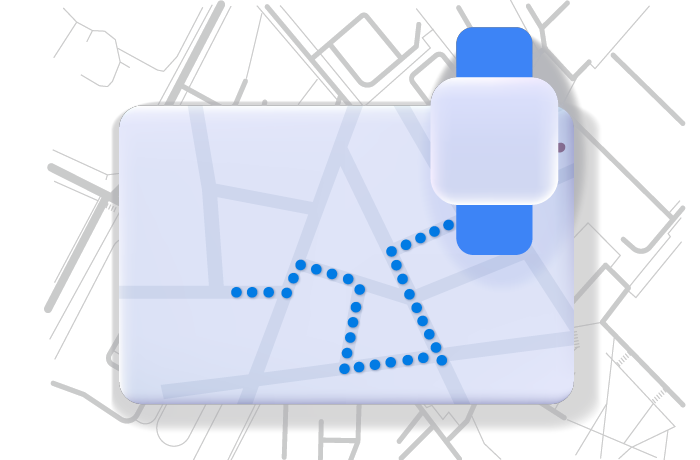 Categories
Blog-en
In a medical or surgical ambulatory service, the follow-up of the patients' pathway
can be complex. Indoor geolocation is a precious help for the nursing staff.
care staff. Find out how to optimize the patient's journey in ambulatory care
and all the advantages that a geotracking system can offer to healthcare institutions.
to healthcare facilities.
Indoor geolocation and inpatient tracking
For a hospital, receiving outpatients requires well-trained logistics and the ability to manage the flow of patients and their companions. In this case, the implementation of an indoor geolocation system allows to optimize the management and the follow-up of the patients' journey in the department.
The principle is simple: several terminals are installed at each stage of the patient's journey (admission, entry into the recovery room, etc.). Upon arrival in the outpatient department, patients are equipped with a bracelet containing a geolocation tag. When the patient passes in front of one of the terminals, the beacon on the bracelet sends a signal to the nursing staff and the accompanying person, allowing them to follow the patient's journey in real time.
This geolocation system is not limited to use in an ambulatory service. It can also be implemented in an emergency department with the same objective of tracking the patient's journey, but it can also be used to locate patients at risk. Thus, when a patient gets lost or is detected outside a department or the hospital premises, the caregivers are immediately alerted.
The benefits of geolocation in an ambulatory service
Indoor geolocation solutions offer many advantages to all those involved in an outpatient's journey.
For caregivers, it is a simple and efficient way to manage and optimize the path of hospitalized patients, saving time in the administrative management of care. Geolocation allows them to follow the patient in real time, but also to manage the occupation of the care rooms, to detect congestion areas, to estimate the waiting time before the patient is discharged…, all from the establishment's interface.
For the patient, deprived of his smartphone during his outpatient hospitalization, it is the assurance that his relatives will be informed of his state of health as well as the time of his discharge. Their care and comfort are improved, and their waiting time is limited.
As for those accompanying the patient (family, friends, ambulance drivers, etc.), they are informed of their loved one's progress through the care process. They are not required to stay on site, which takes up waiting room space, and they will know exactly when they can pick up the patient.
With indoor geolocation, your healthcare facility can provide patients with better care during their outpatient journey. Sweepin offers hospitals a digital indoor geolocation solution to optimize the patient journey. Contact us for more information.
Categories
Blog-en
The terms "connected city" and "smart city" are often used to describe cities that use advanced technologies to improve the quality of life for their residents and make the city more efficient and sustainable. However, these terms have slightly different meanings and do not refer to the same type of city or community.
The connected city relies on technology to improve citizens' quality of life
The connected city is a concept that aims to improve the quality of life in the city through the use of technology to provide services to its citizens. Today, more and more cities are adopting connected solutions to better manage resources, optimize travel, improve safety, facilitate exchanges between citizens and city services, etc. The connected city is often implemented in a fragmented way, with solutions tailored to the specific needs of each city.
Mobile applications are one of the means used to make the city more connected. They allow citizens to interact with city services and to report problems on the public highway, such as accidents, deterioration of equipment, etc. They can also provide information in real time to the public. They can also provide real-time information on public transportation, events, local businesses, etc.
Created for connected cities, they can be customized according to the needs of each community. They can be developed to meet specific needs such as waste management, energy optimization, citizen safety, but also tourism development for example.
In order for mobile applications to be effective, a city must make sure upstream that this tool will be used by citizens, that it meets a real need. It is also important to have a reliable and efficient network infrastructure. The city must be equipped with appropriate communication networks to collect data in real time and process it efficiently, while protecting the privacy of users.
Mobile applications for connected cities are a key element to improve the quality of life in the city. They promote participatory democracy by allowing citizens to actively participate in the life of their community. This allows municipal services to better respond to the needs of the population.
The smart city and its broader vision of sustainable urban development and quality of life
The smart city is a more comprehensive concept that requires a strategic vision and a long-term project. A smart city goes beyond simple connectivity, using advanced and innovative technologies to improve the quality of life of its citizens, while reducing its environmental footprint and ensuring efficient use of resources. This implies the implementation of sustainable practices in all aspects of urban life.
A smart city relies on technologies such as data analytics, artificial intelligence (AI), cloud computing and 5G networks to collect and use data in real time. Smart cities also rely on transparent governance practices, citizen participation and open data to involve citizens and stakeholders in the planning and management of the city.
The main objective of a smart city is to create a sustainable and resilient urban environment that meets the needs of its citizens, while preserving natural resources.
A smart city takes a long-term view of sustainable urban development, considering long-term economic, social and environmental issues, while a connected city may focus on short-term technological solutions to meet specific needs.